The Saudi Arabian government is making a massive investment in urban infrastructure as the country prepares for unprecedented population growth in the next decade. The city of Riyadh, for example, which has grown relatively unhindered due to not having any real geographic boundaries, expects its population to increase from 6 million to 8 million by 2030. As a result of this growth, transportation has become an issue, and the Saudi Arabian government is responding by overseeing the development and renovation of Jeddah's international airport and major improvements to Riyadh's mass transportation system.
The Riyadh Metro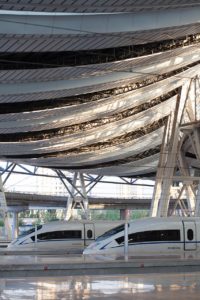 This $22 billion project, which will add new lines to Riyadh's metro system, should have a soft opening in 2019 and be fully operational by 2021. The transit system will have six lines and a corresponding bus system that will stretch 176 kilometers with 85 stations. The system will connect the center of Riyadh with the airport, new financial district, commercial districts, and universities. All the train cars, whether they are first class, family class, or single class, will be air conditioned.
"Riyadh today is one of the world's fastest growing cities and our citizens deserve a world-class public transport system to enhance their quality of life," Ibrahim Bin Muhammad Al Sultan, president of Arriyadh Development Authority, told CNN in 2013. "It will also help to reduce traffic congestion and improve air quality." The project will be the biggest metro system ever built from the ground up, and developers have said that its construction will create tens of thousands of jobs.
Even with such a large investment in the metro system, however, officials cannot guarantee that city residents will use it. In Riyadh, residents drive their personal vehicles far more than they take buses and trains—in fact, only 2 percent of commuters in Riyadh use mass transportation, according to FCC Construction. Gasoline also has been extremely cheap in Riyadh, with prices as low as 50 cents per gallon, which is among the lowest in the world.
This could change, however, with a new Saudi policy announced in the summer of 2018 that significantly increased the price of gasoline to encourage residents to use public transportation. The awe-inspiring designs of the system's four primary stations, which were created by architects from around the world, might also draw more people to the metro lines. The King Abdullah Financial District station, for example, a main interchange on Line 1, has six platforms on four floors, where three lines connect. The station's architects have said that the building's white façade should cut down on the sun's heat, and its wavy lines are designed to resemble windswept patterns on sand dunes.
In June of 2018, Alstom, a French train builder, began tests on trains that have been delivered to Riyadh. Alstom is building lines 4-6 and is supplying 69 driverless trains, a signaling system, tracks, and energy recovery stations.
Jeddah International Airport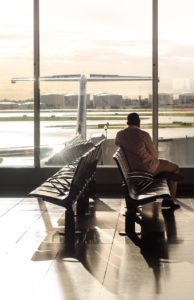 Initial operations began at the redeveloped King Abdulaziz International Airport (KAIA) in May when it welcomed a domestic Saudi Arabian Airlines flight from al-Qurayyat in northern Saudi Arabia. The airport opened with two functioning gates and plans to open 11 gates by August. It should be fully operational, with 46 gates open for domestic and international flights in the first quarter of 2019.
The airport is roughly 19 kilometers north of Jeddah, and it will eventually become of the biggest aviation hubs in the world. The airport cost about $7.2 billion to redevelop, and officials expect it to become a central access point for pilgrims traveling to the Muslim holy cities of Medina and Mecca.
The airport already is serving visitors bound for holy sites. As the holy month of Ramadan began in the summer of 2018, the Jeddah Education Scouts handed out iftar meals and water bottles to pilgrims and visitors who flew into KAIA each day. The group expected to serve 5,000 people at the airport during Ramadan. The airport's original Hajj Terminal is designed with pilgrims in mind with a series of heavy, fabric roof structures inspired by Bedouin tents to serve as a culturally welcoming symbol. The airport has a separate complex with facilities for pilgrims to sleep, pray, and prepare food before they complete their journey, as well as toilets, showers, shops, telephones, and banking facilities. There are also mobile phone vendors that sell Saudi SIM cards.
KAIA will handle much of the air traffic from the old Jeddah airport, which saw 30 million passengers in 2017—almost a 10 percent increase from the previous year. Saudi Arabian Airlines, the national flag carrier of the Kingdom of Saudi Arabia, will slowly move its fleet to the new airport. The old and new airports will operate concurrently as the airline transitions to KAIA. Nesma Airlines and flynas also will operate out of KAIA.