As Middle Eastern cities rise from the desert and economic growth facilitates new and innovative building design, architecture is becoming a means for the region to express its identity, culture, and relationship with history. Building design and urban growth in the Middle East can reflect the tension between historic preservation, how cities are responding to their environmental contexts, and a region's hope for the future.
Some Middle Eastern buildings, such as the Burj Al Arab Hotel in Dubai, have long captured the world's attention with their stunning architecture. As the Middle East comes into its own, regional architects and developers are creating an urban landscape anchored by unique structures.
Much of the growth is coming in the wake of a building boom that stalled during the world financial crisis, with megaprojects such as Saudi Arabia's Jeddah Tower put on hold. Recently, these large projects have restarted, especially with the FIFA World Cup coming to Qatar in 2022 and many Middle Eastern economies growing.
"Things are definitely picking up, more interesting buildings are coming out, both from the government and private developers," Simon Fraser, Hopkins Architects Dubai managing partner, told CNN. Here are some of the most stunning buildings recently constructed in the Middle East.
Abraj Al Bait Towers, Saudi Arabia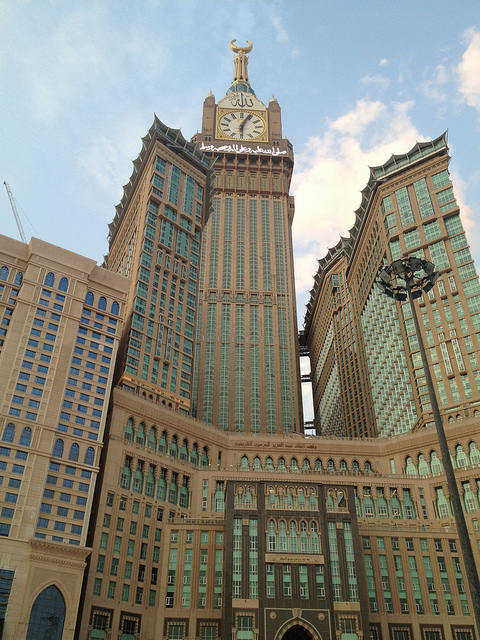 This now-iconic complex was built on the site of an 18th-century Ottoman fortress in Mecca, which was torn down to make way for new construction. The site is just outside the Kabba, the holiest Islamic site in the city, and its main clock tower is taller than Big Ben in London. The 2000-foot tower is home to a prayer room with a capacity of 10,000 and an observation deck. "God is the greatest" is inscribed over the clock.
The project cost about $15 billion, and it was paid for by the Saudi Ministry of Religious Endowments. Construction on the complex, which began in 2004, was completed in 2012.
Bank Muscat, Oman
The headquarters of Oman's biggest bank is truly spectacular, featuring a design that combines contemporary architectural elements with Islamic influences. Its innovative concept fuses the aesthetic with the practical, as the work areas inside contain glass walkways and vibrant seating areas that might look more at home at a fashionable university. The building's exterior is covered in white screens with geometric flower designs that allow natural light to filter through while blocking much of the harsh sunlight.
Construction on the project, which is in Muscat, began in early 2009, and it was completed in two years. The building is over 100,000 square feet, and it cost $57.2 million to build.
Cayan Tower, United Arab Emirates
This 80-story curving tower located in Dubai seems to defy physics as it unexpectedly twists into the sky. At almost 1100 feet in height, Cayan Tower is the tallest spiral tower in the world. It is built without pillars, so it truly looks like an otherworldly being grasped the top of a traditional office tower and gave it a twist.
The project was completed in 2013 after seven years of construction, and it cost $272 million.
Museum of Islamic Art, Qatar
This building in Doha is as much a masterpiece as the works of art it holds. The museum looks like a stack of cubes and was designed by world-famous architect I.M. Pei, who came out of retirement at age 91 and spent six months in the Middle East seeking inspiration for the project.
Pei's resulting design was simple and futurist, and the building is situated on a peninsula that juts into the Persian Gulf. Construction began in 2005 and took three years, and the museum, peninsula, and adjacent park cost almost $48 million to build.
Ferrari World, United Arab Emirates
Ferrari World, which is the second-largest indoor theme park in the world, was completed in 2010 after two years of construction. It was built in Abu Dhabi in a desert landscape, and its sprawling, flashy building contains the planet's largest Ferrari logo.
The structure is enormous in size and cost—it covers the equivalent of seven football fields and cost $40 billion to construct. It looks like a red UFO, and 21 rides are inside.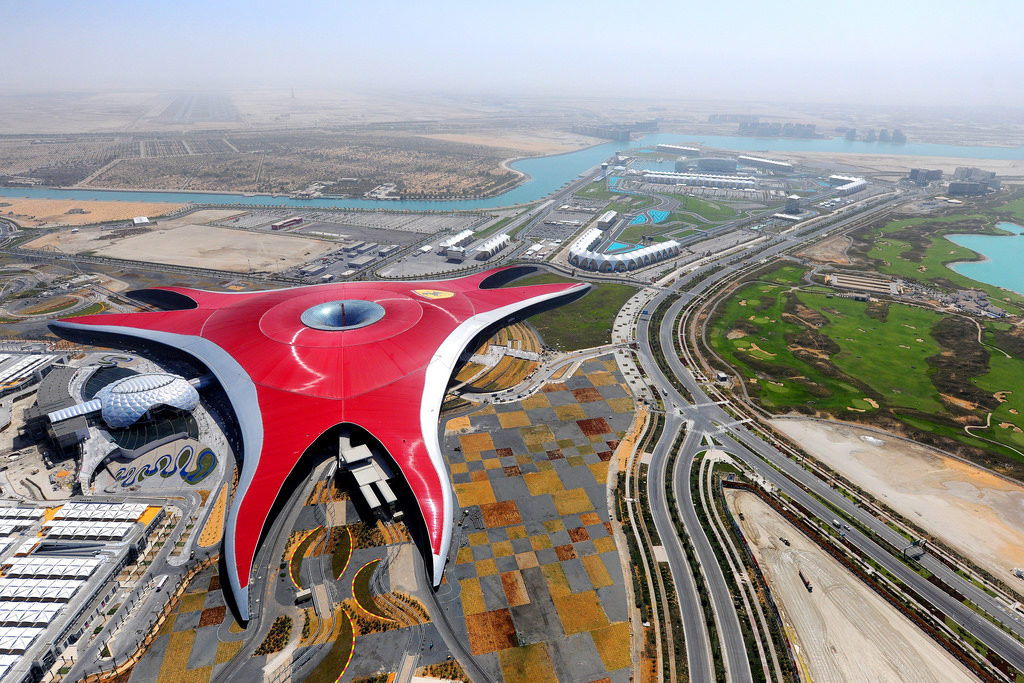 Burj Khalifa, United Arab Emirates
This 2700-foot-high skyscraper in Dubai attracts visitors with its stunning height and unique design that makes it appear to be punching a hole into the sky. Burj Khalifa, which has 163 stories and is the tallest skyscraper in the world, has become a popular stop for tourists and unauthorized BASE jumpers. At.mosphere Bar and Lounge, which is on Burj Khalifa's 122nd floor, has the distinction of being one of the highest bars on the planet.
The $1.5 billion project was started in 2004, but construction was delayed by the financial crisis a few years later. It finally opened in 2010, and now it is part of Downtown Dubai, a mixed-use development that also contains residential units and the world's largest shopping mall.