In the fall of 2019, India's onion crops suffered a 26 percent decline during the kharif and late-kharif seasons due to a monsoon and additional heavy rains that hit Maharashtra, Karnataka, and other Indian states that produce onions. The vegetable is common in Indian cooking, and with a population of more than 1.3 billion, India has a high demand for onions. The unseasonal rains left much of the country's onion harvest rotting in the fields.
As a result, onion prices in India skyrocketed in September. The Indian government has been particularly sensitive to the onion market, as past administrations have suffered when onion prices rose. In 2019 the government's initial efforts to bring onion prices under control didn't work, fueling an already explosive situation.
Trouble brewing
Reports soon came in from across India of everything from onion theft to people fighting in markets over available onions. In December, India Today reported that in the Amroha district, two women began arguing after one chastised the other because she didn't have enough money to buy onions. The conflict escalated into a fistfight as more women jumped in—ultimately, five women were injured badly enough to require a hospital visit. Police issued charges against six people in the fight.
News outlets also reported multiple cases of onion theft in December, including several in the Mandsaur district of India. From a farm in Richha Bachha village, thieves stole a truck full of onions, which the farmer stated was worth about 30,000 rupees ($415). Another report filed with the police stated that a truck filled with onions had disappeared; the truck was later found, but the onions were gone.
The sustained high prices had significant impacts on individual homes and small restaurants, where chefs tried to reduce their use of onions by substituting it with cabbage and radishes.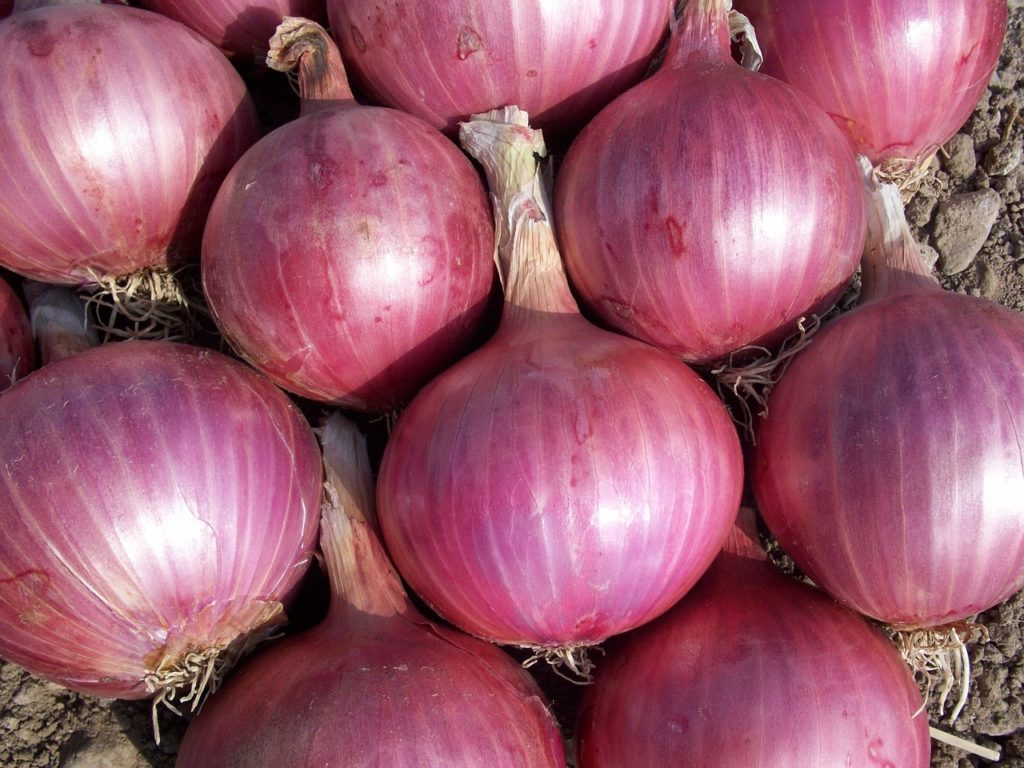 Farming dilemma
India's government initially tried to stabilize the price of onions by raising the minimum export price for onions and then, in September, banning Indian producers altogether from exporting the vegetable.
However, increased prices drove down demand, leaving Indian farmers in a financial bind. One farmer, in an interview with a news outlet, said that he was selling onions at a rate 15 times less than the price consumers were paying. While onion traders—who began hoarding onions—were benefiting from higher onion prices, individual farmers were not.
Facing increasing pressure, the Indian government turned to onion producers in other countries—including Afghanistan—to relieve the stress on the onion market in India. The Indian government ordered more than 6,000 tons of onions from Egypt in December and announced plans to sell them at a lower price than in the current Indian market.
Afghanistan exported onions across the Attari border, further helping to stabilize prices—reports stated that up to 95 trucks full of onions traveled from Afghanistan to India daily in early December, with each truck carrying about 15 tons of onions. The Afghan onions were sent to states all over India, helping to reduce the wholesale price of onions between 20 percent and 30 percent. While consumers were pleased with the lower prices, onions grown in Afghanistan are much larger than those Indian cooks are accustomed to and so were not necessarily conducive to household use.
New onion season
In early 2020, hope increased that a better onion season in India, along with new restrictions on the number of onions that wholesalers and traders could stockpile, would normalize the markets.
A bumper crop of late-kharif onions arrived at the market in January, and in late February the Indian government removed its ban on exporting one type of onion. Exporters also have been booking orders of other types of onions in anticipation of the ban being further lifted. Indian farmers are expecting to sell their onions on the market in March for 40 percent higher than last year.
More about Afghan onion farming
Onions are one of many vegetables grown in Afghanistan, and Afghan officials recently announced that in Takhar, a northern province, onion production has increased significantly. In 2019 Takhar farmers produced about 60,000 tons of onions, which averaged to about 14,000 kilograms per acre. Following this record harvest, Afghan officials predicted further increases in onion production.
However, agriculture experts have countered, noting that Afghan farmers need more export markets for onions for it to be worthwhile to increase their harvests and that they need to implement better field production and management strategies. In normal conditions, Afghanistan's soil, climate, and hardworking labor force are all conducive to expanding onion production. With more efficient water use to better safeguard against drought conditions, better pest control strategies, and more cold storage facilities, the potential for significant increases in Afghan crop production could be realized.