In early 2019, UNICEF appealed to humanitarian leaders around the world for almost $4 billion to help 41 million children in 59 countries who are affected by conflict or disaster. Without aid, UNICEF leaders have said, these children's safety and their futures could be at risk. The organization helps children by responding to and preventing trauma, violence, abuse, neglect, and exploitation—essentially providing services that children in many countries lack. In addition, UNICEF helps provide children and their families with access to water, hygiene, education, and sanitation.
Tackling these issues requires a significant amount of funding each year. UNICEF has faced funding challenges along with other problems, such as perpetrators of conflict increasingly ignoring international humanitarian law and not allowing humanitarian organizations access to help people. Without international action, UNICEF leaders have warned, many children who are suffering and who need protection will not be helped.
"Today millions of children living through conflict or disaster are suffering horrific levels of violence, distress, and trauma," UNICEF Executive Director Henrietta Fore said in a recent press statement. She emphasized the vital importance of UNICEF's work, stating that when children cannot be reunited with their families and when they don't have basic safety or access to psychosocial support, their emotional scars will not heal.
UNICEF has criticized the world's response to children living in conflict regions and warned of catastrophic consequences. Extended exposure to violence and conflict can cause children to live in a state of toxic stress, resulting in lifelong impacts on their emotional, social, and cognitive development. In some cases, children are so traumatized that they need special care to heal.
Manuel Fontaine, UNICEF's director of emergency programs, said in a speech in January in Geneva that world conflicts are as high as they've been in 30 years. Attacks on hospitals and schools, he said, have become normalized, and children have become both victims and perpetrators as many are detained and then trained as soldiers by armed groups. As a result, the longstanding international priority on protecting children has been undermined.
Afghanistan
While UNICEF's largest appeals will go elsewhere, Afghanistan will receive some of the money UNICEF raises to help women and children. Of the roughly $4 billion in requested aid, Syrian refugees and host communities in Egypt, Jordan, Turkey, and Iraq would receive $904 million, while communities in Yemen and the Democratic Republic of the Congo would receive $542 million and $326 million, respectively. Meanwhile, UNICEF estimates that its work in Afghanistan will require $50 million in 2019.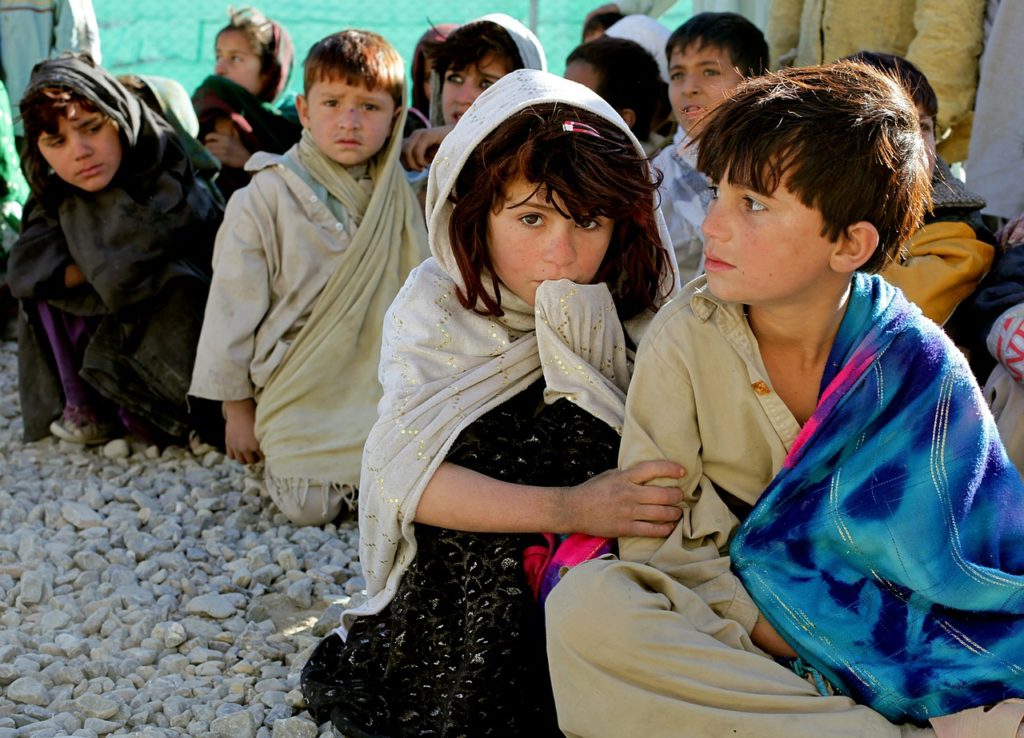 To justify its appeal, UNICEF has outlined the issues that Afghanistan faces and the ways it plans to help. UNICEF estimates that in 2019, it needs to provide aid to about 3.8 million children in Afghanistan who are suffering from issues related to violence and natural disasters such as drought and extremely difficult winters. The country also has a large population of people who are displaced, and UNICEF expects that number to increase in 2019.
Children in Afghanistan face additional crises, according to the UNICEF report. About 3.5 million Afghan youth do not attend school, and about 2 million children younger than age 5 have acute malnutrition, including 600,000 with severe acute malnutrition. Ongoing conflicts, including school attacks, have left about one-third of Afghan children with psychological distress.
The 2019 UNICEF plans for reaching children in Afghanistan are more wide-reaching than its 2018 strategy. Last year, UNICEF and its partners helped 1.6 million people, including children, who suffered from conflicts or drought or who had returned home from neighboring countries. Aid included vaccines, food and medicine for health facilities, winter clothes for children, mobile health and nutrition teams, and education.
UNICEF's strategy for the current year will consider what agencies learned in 2018. That means the health and nutrition response will focus on reaching people in remote areas through mobile teams and local health centers and providing integrated approaches to health care. UNICEF plans to better discern communities' needs by supporting child protection action networks and local educators. It also will build partnerships with NGOs to assist people in hard-to-reach areas, participate in needs assessments, and create long-term humanitarian strategies.
Here's a summary of UNICEF's 2019 plan for Afghanistan:
Help 300,000 gain access to safe drinking water.
Treat more than 375,000 children younger than age 5 who have severe acute malnutrition.
Provide winter clothes and other items for 200,000 people impacted by conflict and natural disaster.
Give vitamin A supplementation to about 78,000 children ages 6 months to 5 years in struggling communities.
Immunize 75,000 children against measles.
Offer essential health services and health education to 196,000 pregnant women and children.
Provide access to basic sanitation facilities to 100,000 people.
Support 7,500 children through family reunification and case management.
Provide a quality education to 160,000 children and adolescents.
UNICEF estimates that meeting these goals, which also includes curbing the spread of disease and helping people who are internally displaced, will cost about $50 million.