The demand for fish in Egypt is quickly outpacing the supply, and the government hopes to bridge this gap by developing the largest fish farm in the Middle East.
Berket Ghalioun fish farm is part of long-term plan to make Egypt more self-sufficient, eliminating the need for it to import fish. The farm, which one project leader calls a "dream project," will be built in Kafr el-Sheikh, a province along the northern coast of Egypt. It should produce enough fish to meet about 70 percent of the country's domestic fish consumption.
Egypt's leaders are eager to reduce the country's dependency on imports. The country has a population of about 96 million and imports most of its food. Since Egypt doesn't have enough farmland available for traditional farming and raising livestock, the government and private businesses are now importing animals for breeding and building greenhouses to boost the country's domestic food production.
Egypt a major fish producer
Egypt is already a major fish producer ranked seventh in the world in aqua-cultural production and first in Africa. According to statistics from the General Authority for Fish Wealth Development, Egypt's fish farms produced 1.5 million tons of fish in 2016 while it imported 236,000 tons of fish.
Fish farming is part of a growing agricultural movement in Egypt, in part fueled by dwindling water supplies and growing urbanization. With less land to farm and water to irrigate crops, Egyptian farmers are turning to the unlikeliest of places—the desert—to grow plants and animals. Farming fish is a practice that works well in conjunction with hydroponic farming, a soil-less method of growing plants in gravel, sand, or liquid with added nutrients. Water is a precious resource for desert farming, and farmers figured out how to use the same water for fish farming and crop irrigation.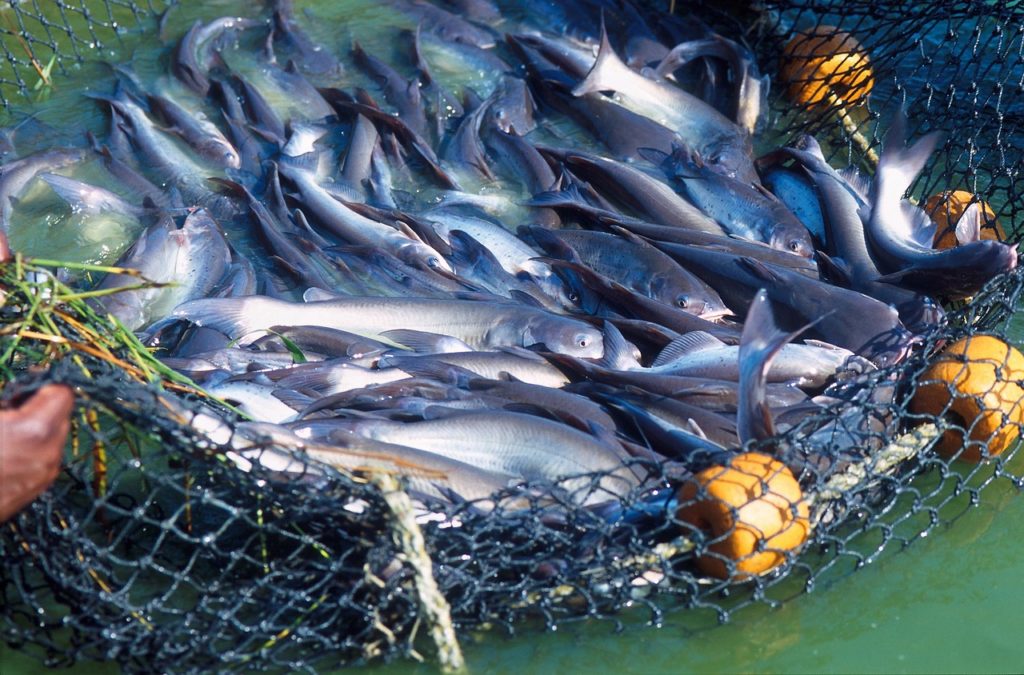 Complementary processes
Fresh water is pumped from underground aquifers to water Egypt's crops, and in recent years fish farmers have been using that water first to raise tilapia and catfish. Growing fish and plants, they learned, can be complementary processes in regards to water use. The water that the fish live in becomes dense with nitrates, which is in turn deadly for fish, but rich in nutrients for plants. When farmers use this water for irrigation, plants absorb the nitrates through their roots, making the water usable again for fish.
"It's all about getting more for your one drop of water," Sherif Sadek of Egypt's Aquaculture Consulting Office told the Egypt Independent in 2012. Sadek also serves as a consultant with Wadi Farms' fish farm project located in Wadi Natroun.
A long history
Fish farming in Egypt dates back to the 1930s, when researchers began growing common carp for their research work. The Egyptian government built the country's first commercial farm in 1961, and farmers grew common carp, flathead grey mullet, and Nile tilapia. Within two decades, Egypt had created an aquaculture development plan that resulted in a significant increase in fish production by the 1980s. The government built hatcheries, fish farms, and fry collection stations as the industry grew quickly, and farmers experimented with new methods of raising fish.
Egyptian fish farmers typically located their farms along the Eastern and Northern Nile Delta, where they built pond systems that used fresh and salt water. While the number of farms grew, production was generally low compared to imports, and desirable land along the Nile Delta was quickly taken up for development rather than for more farms. Farmers expanded to marine fish in the late 1980s, experimenting with sole, seabass, shrimp, and seabream, although this method has not been as successful as freshwater farming.
Farmers are now expanding outside of the immediate Nile Delta region, including the Berket Ghalioun fish farm. The farm will include a fish hatchery with the capacity for 20 million fish and a shrimp hatchery with a capacity for 2 billion shrimp. That translates to about 3,000 tons of fish and 2,000 tons of shrimp per cycle of the farm's marine section and about 2,000 tons of fish per cycle in its freshwater area.
Support structures
Several other support structures will also be built on the property. An ice factory will be located about 450 meters from the farm, where it can make up to 60 tons of ice daily to freeze shrimp and fish. Other sites on the property will include a fish food plant, a research and development center, a shrimp fee plant, and a foam factory to make containers for the shrimp and fish.
The project will cost the Egyptian government about $100,000, and it hopes for s significant economic payoff. According to Kafr el-Sheikh Gov­ernor Sayed Nasr, the project has di­rectly provided 10,000 jobs and will indirectly create 30,000 more.
"Kafr el-Sheikh workers were badly in need of these jobs," according to Sayed Nasr, the governor of Kafr el-Sheikh province, in a recent press statement. "The province is among the poorest in Egypt ,and projects like this one are necessary if our unemployed labor will find work."